Prices
Montana Guided Fly Fishing on the Big Hole River, Beaverhead River, Jefferson River, Clark Fork River, and Southwest Montana. Prices are per day, per boat (two people per boat) and include: drinks, lunch, flies, expert advice, and a full day on the water with one of our experienced fly fishing guides. Sunrise Fly Shop will customize your next fly fishing vacation. For help planning your next fly fishing vacation,Contact us
Full-Day Guided Float Trip – 2 Anglers
$695
Price per day, per boat (two people per boat)
Full-Day Guided Float Trip – 1 Angler
$675
Price per day, per boat (one person per boat)
Check out our options for trip bundles and accommodations.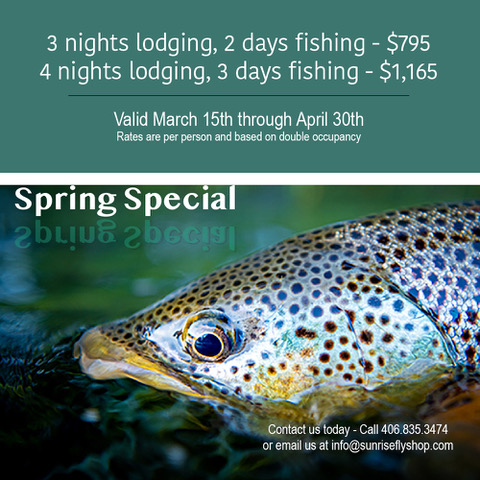 My brother and I returned last night from our annual fishing trip to Montana. The weather …kinda cold and wet, save for our last day, and the river conditions were not ideal, but somehow we managed to catch more trout and better quality trout than our previous 9 trips to "God's country."…
Hi Eric and Ryan: Just a quick note to thank you both very much for your help in making our visit to the Big Hole country such a wonderful time. I think you could tell from our reaction two Sundays back how enthused we were about every aspect of the experience...
Jerry and I enjoyed the float with you, and a great fishing day. Catching the 22″ Brown Trout on the Big Hole will be memorable for me. Thanks for your help.